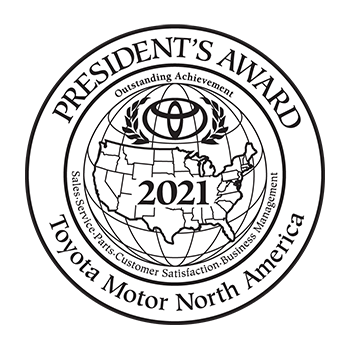 Jim Bagan Toyota is proud to receive the 2021 Toyota President's Award!
Each year, Toyota Motor North America recognizes its finest dealerships with this prestigious award. 
The President's Award recognizes Toyota dealers that excel in all facets of their operations including sales, service, and customer satisfaction. 
It is recognition for dealerships that continue to go above and beyond for customers and represent the best of the best. 
We want to thank our customers for helping us receive this award. We like it to symbolize our continuing dedication to satisfying our customers from the day you buy a Toyota and for as long as you own it. Feel free to visit us for all of your Toyota needs, our highly trained sales staff and factory trained technicians are waiting.